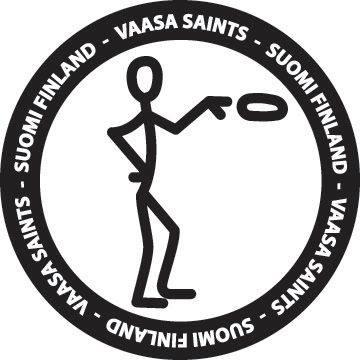 Vaasa Saints on vaasalainen ultimateseura, joka tarjoaa harrastus- ja kilpatoimintaa junioreille ja aikuisille ympäri vuoden. Seura on perustettu 1999 ja mitalikaappiin on kertynyt SM-mitaleita niin avoimesta kuin junioreiden sarjasta. Kansainvälisillä kentillä olemme menestyneet mixed-joukkueena.
Vaasa Saints är en ultimateförening i Vasa, som erbjuder hobby- och tävlingsverksamhet för både juniorer och vuxna året runt. Föreningen grundades år 1999 och i prisskåpet har det samlats FM-medaljer både från öppna serien och juniorserien. På internationell nivå har vi lyckats bra som ett mixed-lag.
Vaasa Saints is an ultimate frisbee club based in Vaasa, offering recreational and competitive activities for juniors and adults throughout the year. The club was founded in 1999, and the trophy cabinet boasts national championship medals from both the open division and the junior category. On the international stage, we have achieved success as a mixed team.
Mitä on ultimate? Vauhdikas frisbeellä pelattava joukkuepeli, joka tarjoaa haastetta ja hyvää seuraa. Lisää lajista löytyy täältä https://ultimate.fi/
Ota meihin yhteyttä somessa tai sivun alalaidasta löytyvällä lomakkeella! Etsimme jatkuvasti uusia pelaajia.
Vad är ultimate? Det är en fartfylld lagsport som spelas med en frisbee och som erbjuder utmaningar och trevligt sällskap. Mer information om sporten hittar du här: https://ultimate.fi/
Ta kontakt med oss på sociala medier eller via det formulär som finns längst ner på sidan! Vi letar ständigt efter nya spelare.
What is ultimate frisbee? It's a fast-paced team sport played with a frisbee, providing challenges and great companionship. More information about the sport can be found here: https://ultimate.fi/
Get in touch with us on social media or through the form located at the bottom of the page! We are constantly looking for new players.
Talvikauden 2023-2024 treenit
Aloitamme talvikauden kahdella uusille pelaajille suunnatulla maksuttomalla kokeilukerralla, tervetuloa mukaan!
Kokeilukerrat ovat Vamian Hansa-kampuksella (Ruutikellarintie 2, 65100 Vaasa)
torstaina 21.9. klo 17:00-18:30
torstaina 5.10. klo 17:00-18:30
Mukaan sisäliikuntavarusteet. Aiempaa kokemusta lajista ei tarvita. Vuoro on tarkoitettu sekä miehille että naisille. Myös juniorit (13-18v) tervetuloa!
Lokakuun alusta jatkamme normaalin harjoittelun parissa. Uudet pelaajat ovat tervetulleita mukaan myös myöhemmin kauden aikana. Talven harjoitusvuoro jatkuu torstaisin klo 17:00-18:30 Vamian Hansa-kampuksella. Harjoitukset ovat yhteiset miehille, naisille ja junioreille. Mahdollisesta omasta juniorivuorosta tiedotetaan myöhemmin.
Vinterträningar 2023-2024
Vi börjar vintersäsongen med två kostnadsfria provträningspass för nya spelare, varmt välkomna att delta!
Provträningarna äger rum på Vamias Hansa-campus (Ruutikellarintie 2, 65100 Vasa):
Torsdag den 21 september, kl. 17:00-18:30
Torsdag den 5 oktober, kl. 17:00-18:30
Ta med inomhusträningskläder. Tidigare erfarenhet av sporten är inte nödvändig. Tiden är avsedd för både män och kvinnor. Även juniorer (13-18 år) är välkomna!
Från och med oktober fortsätter vi med normal träning. Nya spelare är välkomna att ansluta sig även senare under säsongen. Vinterträningen fortsätter på torsdagar kl. 17:00-18:30 på Vamias Hansa-campus. Träningarna är gemensamma för öppna, dam- och juniorspelare. Eventuell separat träningstid för juniorer meddelas senare.



Winter Season 2023-2024 Trainings
We're starting the winter season with two free training sessions for new players, so feel welcome to join!
The trainings take place at Vamia's Hansa campus (Ruutikellarintie 2, 65100 Vaasa):
Thursday, September 21th, from 5:00 PM to 6:30 PM
Thursday, October 5th, from 5:00 PM to 6:30 PM
Please bring indoor sports attire. Previous experience in the sport is not necessary. The time is intended for both men and women. Juniors (13-18 years old) are also welcome!
Starting from October, we will continue with regular training. New players are welcome to join later in the season as well. Winter training continues on Thursdays from 5:00 PM to 6:30 PM at Vamia's Hansa campus. The training sessions common for the open, women's, and junior players. Any separate training times for juniors will be communicated later.